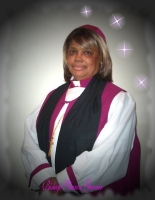 Bishop Sharon Garner was born in Memphis, Tennessee, where she accepted and received the Lord Jesus Christ as her personal Savior at the age of twelve. She was called into the Ministry in August 1983, and licensed by the Chicago River Primitive Baptist District Association in April, 1984.
She was ordained by Pleasant Grove M. B. Church, on December 14, 1995. Bishop Garner has served as Associate Minister, Sunday School Teacher, Outreach Director, New Member Instructor, and Dean of Christian Education.
Bishop Garner currently serves as Senior Pastor of New Life Deliverance Church of Chicago, Illinois, the ministry that God birthed through her in 1997. She is Pastoral Covering for two (2) other Pastors. She is retired after fifteen (15) years of employment as a hospital Chaplain.
Bishop Garner has attended, as well as taught, many Conference Classes, Seminars, and Workshops. Her preaching and teaching ministry spans more than thirty (30) years. Her extensive knowledge of the Word of God, strong leadership qualities, and sound administrative practices are evidenced by her service not only at New Life Deliverance, but as well as in District Fellowships and the Community. She previously served as Director of Evangelism of the Full Gospel Baptist Church Fellowship Western District of Illinois; District Elder of The Fellowship of Independent and Global Churches & Ministries, Inc.; and State Overseer, The Fellowship of Independent and Global Churches and Ministries, Inc.
To God's glory only, in February 2007, He allowed Bishop Garner to be one of the organizers in the birth of The Fellowship of Kingdom Builders. She was Consecrated into the Episcopacy on March 30, 2008, and served as its Jurisdictional Bishop. In November 2011, after seeking God's face, and much prayerful discussion, the Executive Board of the Fellowship of Kingdom Builders agreed to merge with Faith Tabernacle Outreach Ministries (FTOM) of Trenton, New Jersey under the leadership of Bishop Herbert Bright. Bishop Garner was appointed to the General Board of Directors as Secretary General of the fellowship.
Bishop Garner, believing that the Church must go "beyond the walls", has always been involved in Outreach Ministry, and has served on various community committees. She is currently a Board Member of the West Side Pastor's Coalition for HIV/Aids of Chicago, Illinois, and a member of the West Suburban Medical Center Neighborhood Community Relations Committee in Oak Park, Illinois.
Bishop Garner attended Moody Bible Institute, Chicago, Illinois; Trinity Bible College and Seminary, Newburg, Indiana; and she received her Chaplaincy Education through The Association for Clinical Pastoral Education.
She is married to Overseer/Co-Pastor Ronald Garner, her "6'5 Handsome Husband". They reside in Bellwood, Illinois and are the proud parents of two sons, Stephen Mallette and Ronald, Jr.; two daughters, Tricia Mallette and Minister LaRhonda Garner; and twelve grandchildren.
Bishop Garner truly loves God with her whole heart, the People of God, and has a strong determination to "Equip the Saints for the Work of Ministry"!
She enjoys movies, reading, traveling, and watching the Bulls.